Out of the Box
Celebrating Ambition and Innovation
Re-Gifting with Royalty
Friday, September 21 at 7:30 pm
Agrippina
Friday, November 16 at 7:30 pm
Sunday, November 18 at 2:30 pm
Baroque Razzle Dazzle
Monday, December 31 at 9 pm
Scherzi musicali
Friday, February 15 at 7:30 pm
San Giovanni Battista
Saturday, March 30 at 7:30 pm
From Brandenburg to Esterházy
Sunday, May 19 at 6:00 pm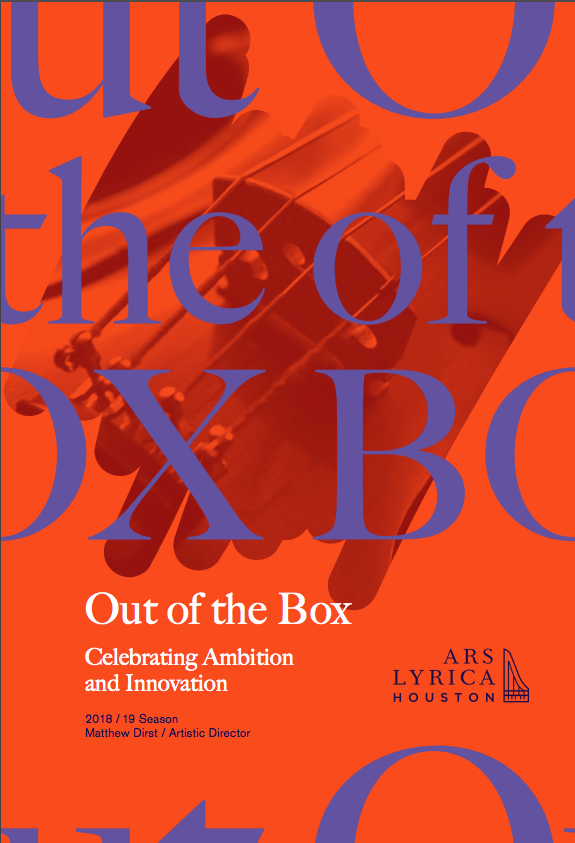 Ars Lyrica Houston celebrates ambition and innovation in 2018/19 with an out-of-the-box season of Baroque and early Classical era masterworks, including our first fully staged opera. This season spotlights exceptional, definitive, and unusual works—some by acknowledged masters but others by composers from the margins of their societies—including Handel's first operatic masterpiece, Agrippina, Bach's beloved "Brandenburg" Concertos, and a superb oratorio by Alessandro Stradella on the story of John the Baptist. Each program offers a distinct take on our general theme, from unexpected musical gifts to singular collections and composers, and all are offered to our hometown audience in the intimate acoustics of Zilkha Hall at the Hobby Center for the Performing Arts in downtown Houston.
In this brochure you will find descriptions of all 2018/19 programs plus a subscription order form. For the best seats and prices, subscribe now and take advantage of early discounts on either a four or six concert subscription.
With many thanks for your continued patronage and our best wishes.
Matthew Dirst
Artistic Director
Kinga Ferguson
Executive Director